BEST HEALTH PRACTICES. More Info
Mutual Recognition Treaty Signing. More Info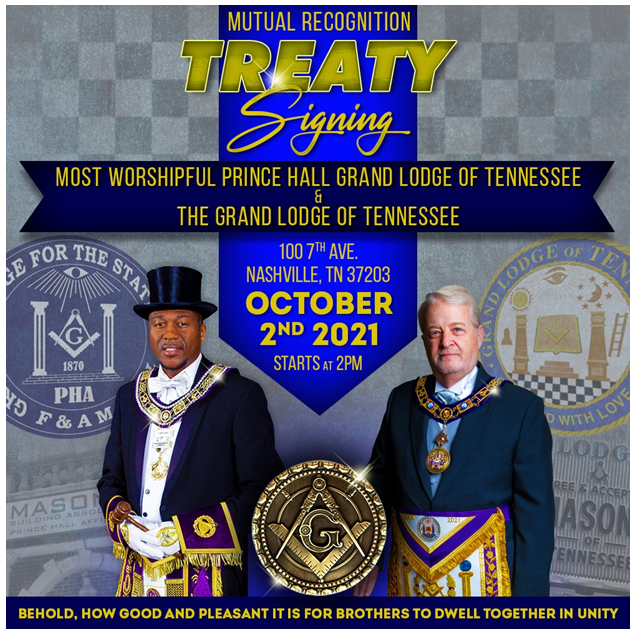 2022 GRAND LODGE SESSION
No info currently available.
Grand Master's Golf Tournament.
2022 GRAND YORK RITE SESSION
No info currently available.
For more TN Grand York Rite news and info visit. tngrandyorkrite.org/
MASONIC PLOTS FOR SALE

4 in NASHVILLE. More Info
2 in Masonic Gardens. More Info
2 in Oak Ridge Cemetery Masonic Garden. More Info
4 in Memorial Gardens - Memphis. More Info

1 in Lakewood Memorial Gardens - Chattanooga. More Info
VETERANS HOMES COLLECTION - District 7 Meeting. More Info
Veterans Donation. More Info
Widow and Orphans Home Fund

Shop and give to The Widow and Orphans at the same time.
More Info
2021 SCHOOL OF INSTRUCTION SCHEDULES
(Note: All SOI meetings begin with a meal at 6pm and a meeting at 7 unless otherwise noted)
(Note: For more info all SOI's are posted on the Grand Lodge Calendar)
No SOI scheduled at this moment.
2021 OFFICIAL VISIT SCHEDULES
(Note: All OV meetings begin with a meal at 6pm and a meeting at 7 unless otherwise noted)
(Note: For more info all OV's are posted on the Grand Lodge Calendar)
Allen Hubbard - OV - May - Aug. More Info
Buddy Leach - OV - May - Aug. More Info
Don Todd - OV - May - Aug. More Info
Doug Dreaden - OV - July - Oct. More Info
Dusty Parsons - OV - July - Sept. More Info
Gary Pirtle - OV - April-Sept. More Info
John Davis - OV - June-Oct. More Info
Justin Huggins - OV - July - Nov. More Info
K.I. Wright - OV - May - Sept. More Info
Lewis Johnson - OV - June - Nov. More Info
Sam Melton - OV - May - Aug. More Info
Tommy Clark - OV - June - July. More Info